There was a time when one could pick up a Constance Spry vase in a charity shop for very little money and indeed I recall my own mother giving away one such vase simply because the style had fallen from fashion. Well done those clever individuals who kept theirs lurking at the back of cupboards as now the distinctive vessels have become quite the collector's trophy. You have only to look on Instagram for images of arranged blowsy roses and frothing foliage and you can almost guarantee they will be housed in a Constance Spry vase.
Florist Shane Connolly has curated the current exhibition at The Garden Museum which runs until 26th September 2021. A visit to the Garden Museum is always a treat but the Constance Spry exhibition is something to get excited about. As you would expect, there are innumerable Spry vases displayed within glass cabinets and not only the distinctively shaped ones so associated with the name, but also a number of rare, unglazed Grecian style pieces.
Constance Spry never trained formally as a florist and her unconventional style was embraced by Society. Her first notable arrangement was in the window of perfumier Atkinsons in Old Bond Street; the unconventional collection of hedgerow finds and orchids caused such a stir that the police had to be called to break up the crowds of onlookers.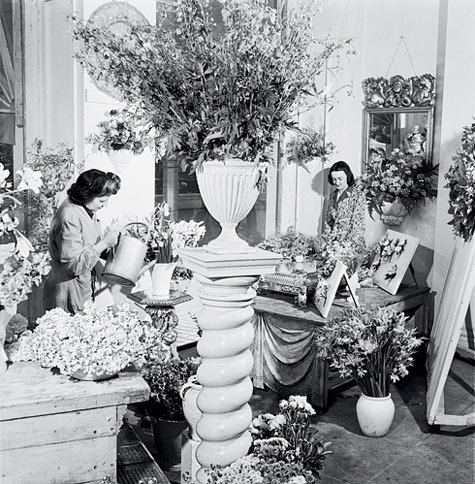 Not only was she was one of the first florists to scour hedgerows for berries and branches to use in her arrangements, she was known to use kale and rhubarb leaves in addition to the loose floral arrangements so associated with her name. Her first shop, 'Flower Decoration' opened in 1929 but she soon discovered that it just in the wrong place and five years later, she reopened in Audley Street, Mayfair along with the Constance Spry Flower School in the same year. Royal Commissions soon followed, with the wedding of the Duke of Gloucester to Lady Alice Christabel Montagu-Douglas-Scott and more controversially, the wedding of the Duke and Duchess of Windsor, not to mention the coronation of our own Queen Elizabeth II. Footage of some of the Royal dos were being shown in the exhibition, along with photos and artefacts including a preserved headdress.
Other privately owned items on display included pieces of furniture and paintings in a re-created room, including a carpet designed by her and another room contained books, leaflets, photos, paintings and letters. Fascinating snippets of information dotted around the exhibition revealed Constance Spry to be quite the modern woman.
In the 1930s, when one would consider affairs to be outrageous except amongst the Bloomsbury set, Constance Spry was living her own secret life. Having walked out on an unhappy marriage in 1916, she took the name 'Spry' from her new partner, Shav Spry. Together they hosted wild parties at their home in Surrey and even when Constance finally divorced her first husband in 1923, she never re-married simply because Shav was unable to bring himself to divorce his wife. Not content with adultery, Constance conducted a four year relationship with artist Hannah Gluckstein who had chosen to paint a white arrangement by Constance. Hannah was something of a revolutionary at the time, sporting cropped hair and wearing men's clothes. Known as Gluck, she was acclaimed as a society painter and not known until more recently as a gender questioning subversive. In the meantime, Shav was busy having an affair with Val Pirie, manager of Constance's flower shop so at least there was no jealousy. It was Gluck who helped conceive the now famous Fulham Pottery vases that bear the Constance Spry name. During the summer of 1932, Constance was inspired by the Roman and Greek pottery the women saw on their holiday together in Tunisia. Gluck sketched the urn shapes which eventually led to the creation of the Spry vases. Constance Spry never spoke of her relationship with Gluck, however.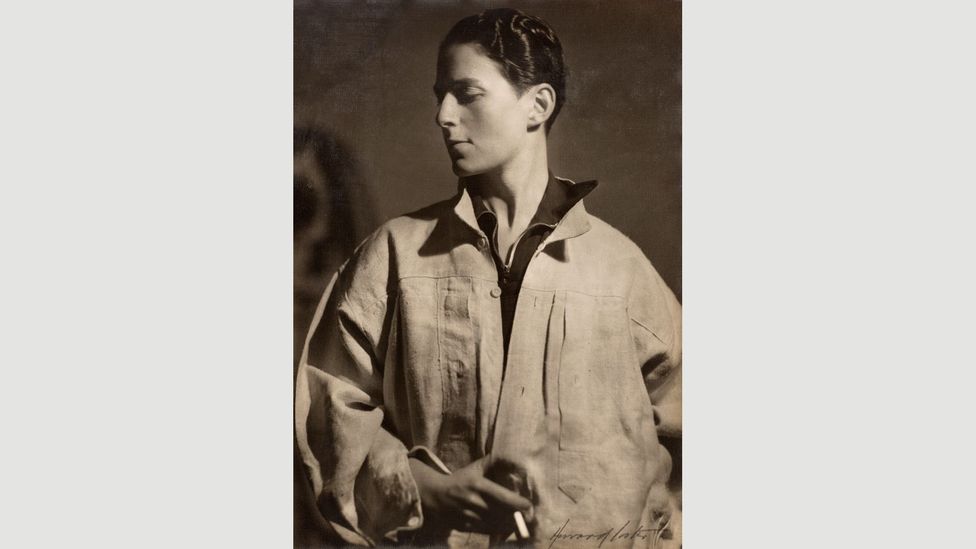 Interestingly, one ponders whether an all-white arrangement was Constance's code for lesbianism – if you consider Vita Sackville West's White Garden at Sissinghurst and compare it to Constance's use of white – could it be that even the unmarried Gertrude Jekyll, whose own garden featured a white border could have used this as code to signify her preferences? Indeed she was known to have close relationships with women, notably another artist; Barbara Bodichon whose paintings adorned Munstead Wood.
But back to Constance. Not only a florist and pottery designer; in her time, Constance Spry was a Red Cross worker, headmistress, cookery writer, she invented Coronation Chicken, hosted a cookery school, wrote 13 books and has an OBE to her name.
Finally, a piece of advice from the woman herself. "Do what you please, follow your own star, be original if you want to be and don't if you don't want to be" said Constance.